100x100joybox
so feel free to swing by whenever. Hopefully my friends here will be posting batches more frequently as to keep this awesome place alive, so do badger them to do so.
Aannnnnnnd this is me, signing out! See you around. :>
hay gaize! This is Lynn, one of the maintainers of this kickass community posting to say farewell. I've moved to
116 Icons
(41) Code Geass
(10) Kurenai
(16) Macross Frontier [mainly Alto crack icons LOLL]
(20) Peacemaker Kurogane
(08) Persona 3
(06) Range Murata
(05) Artwork by
kidchan
(so please credit her, you don't have to credit me for these icons~)
(10) Misc (Air gear/ Animanga_lims entries/ Soul Eater)
Others (Wallpapers)
-Persona 3 Wallpaper Set


Decided to post these before I never get around to doing so... Can't decide whether I like this batch or hate it. --;;;
(
icons under the cut!
Collapse
)
As usual, comments and credit are lovely and much appreciated~
our amazing
AFFILIATES
!
Phoenix Wright - Ace Attorney: 25
TOTAL: 35 icons
(
Read more...
Collapse
)
Rules & Guidelines:
Credit is given to respective sites and artists so uh--ALL IS WELL? Gank as many as you like and please credit if taking! Credit and resources for textures are located at my journal so have a blast. Toodles! 8)
While you're at it, CHECK OUT OUR FIERCE
AFFILIATES!
doncha wanna?
Last Friends: 10
Current Music:

Who Let You Go - The Killers
83 Icons
(8) Air Gear
(6) Code Geass
(wow, no lulu for once haha)
(8) Nana
(5) Peacemaker Kurogane
(essentially, variations of 1 image)
(31) Range Murata artwork
(13) Soul Eater
(all of Death the Kidd LOLL)

(8) xxxHOLIC(4) Others
(hamsters and uhhh 1 TWEWY icon)
1 Wallpaper
-3 Variations, image taken from
foto_decadent



Yep, truly a bit of everything ahahaha.
(
it's all under the cut~
Collapse
)
Comments/credit = love, pls do not alter icons/wallpapers, they are not bases~
P.S
enacting
, we're both at icon post #7 already?? LOLLL
Join?
Watch?
Affliate?
Wanted to wait till I hit a 100icons, but then got lazy. loll So I thought I'll post these before I forget haha. It's a uh... 'bit-of-everything' post. LOLL
Current Mood:

amused
122 Icons Total
(87) Code Geass R2
(b-but the animation's so pretty this season, I couldn't resist! xD;)
(35) The World Ends With You
(woah a post even before
enacting
was supposed to *cough cough* post hers. :P)
Actually, this post wasn't even supposed to be so soon but ehh.... since I'd already hit 100 icons, I'd figure I'll just post these first and work on the manga-colored icons in a separate batch~ xD; (WARNING: QUITE a number of cropping variations :XXX bad habit. but uhh... there's variety? xD)
So here's a huge batch of Code Geass/ The World Ends With You icons, and hopefully a new batch of DOGS /Vampire Knight /xxxholic etc. icons will come shortly~
(
Icons under the cut!
Collapse
)
As usual, comments & credit is much appreciated~
Resources at my journal. Meanwhile WHY NOT check our
awesome affiliates
?~ :DD
(hey at this rate, we MIGHT actually manage to update weekly on this community LOLL)
DNANGEL: 10
Utada Hikaru: 20
Wallpapers: 3 (2 DOGS, 1 Utada Hikaru)
TOTAL: 45 Icons & 2 Wallpapers.


(
Read more...
Collapse
)
Rules & Guidelines:
Please comment and credit for all icons and wallpapers! Textless icons are not bases while credit & resources are found at my journal. With all that aside, gank as many or as little icons as you like! ♥
In the meantime, check out our fucking amazing
affiliates family!
(you know you wanna 8D!)
DOGS: 15
Current Music:

AFTER LOVE (FEMALE VERSION) - Clazziquai
72 Icons Total
-15 Code Geass
-31 Gundam 00
-16 Apollo Justice- Ace Attorney
-6 Misc (Icons of Green Glass artworks)
-4 The Simpsons (random season 18 quotes)
1 FO Banner
(
Icons under the cut!
Collapse
)
After this, I'll probably icon less because of schoolwork. :(( Though there's so many series that I wanted to icon. -__- but those will have to wait...
Quite a number of crack/quote icons for this batch [more than usual at least]. The quote icons were so fun to make~ xD;
Current Mood:

amused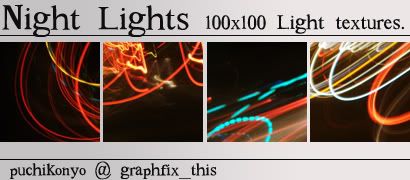 yeah I know I suck at banner making :((( Though I actually like the larger texture preview better. LOLL
Anyhow, while making icons [uh yeah, a new icon batch will be coming pretty soon~~], I'd randomly decided to make a light texture set out of the very random photos that Bro took quite a while ago.
This being the first texture set I've ever made,
feedback would be very awesome
. xD
Credit for the textures would be nice~ And I would love to see what anyone makes with these textures, if you guys do use them? x3
why hello there, I come with light texture sets today. lol~ One 100x100 set, and the larger set of images that these 100x100 were cropped from.
Current Mood:

curious
89 Icons Total
[62] Blood+
[9] Code Geass
[11] Gundam 00
[7] Misc (Disgaea, TTGL, xxxHolic)
Bunch of icons, made mainly during and after watching the Blood+ anime series (ish good k), and some random others.~
(
Iconss under the cut!
Collapse
)
Comments & credit are loved!~
Resources post can be found
here
.
Blood+ screencaps taken from
whiteplums
and Random Curiosity.
Also:
Be a part of the democratic process!
Thanks LOTSS for the noms and stuff.~ :D and go go gooo nominate others as well! ;)
Join?
Watch?
Affliate?
Please be sure to comment when you pick up your requested graphics, else wise I'll have to find means to remind you myself, they all need homes amirite? Oh and credit is necessary, I may be late but I did break a back or two trying to get them done :3.
(
kinda image-heavy, hurhur
Collapse
)
Rules & Guidelines
: Credit is a must and please don't forget to comment telling me that you've picked up you requested icons/scans! The colored manga scans that are shareable may be reused for icons/banners as long as the necessary credit is given, but please do not edit any of the icons. If any of the requesters want some adjustments or edits feel free to leave a message on this post.
Reserved Requests:
The following people have reserved requests from my previous thread and can comment on this post with the specifications for their requests (just follow the basic outline found in my icon batch please!)
1)
wickedly_evil
2)
versine
I'm sorry for the huge delay, I was really busy the past few days (WEEKS? IDK ;_;) and I tried my best to finish these quickly but lol D8;;;
Current Music:

Hey Jude - The Beatles